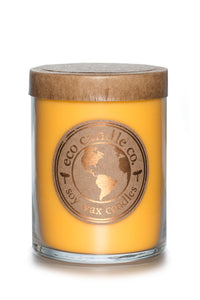 CITRUS SQUEEZE scent description: A bold citrus blend of sweet orange, tangerine, pink grapefruit, lemon and lime. *BEST SELLER

- 16 ounces of eco-goodness packed into a recycled glass jar with kraft label and paper lid. 
- 100% soy candle hand-poured in Appleton, WI.
- Phthalate-free fragrance and essential oil blends. 
- Natural paper, cotton or hemp wicks - no lead.
- Glassware and all packaging made in USA.
- Midwest-grown soybeans.
- Burn time up to 95 hours | Optimal burn length is 3.5-4.5 hours at a time
- Size: 16oz, 3.5" x 4.5"