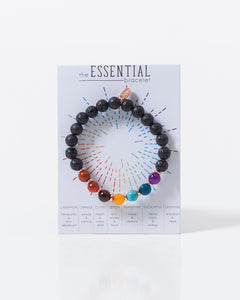 The aromatherapy benefits of essential oils have been known for centuries to motivate, inspire, calm and support health. The black lava beads in this bracelet are porous and act as a natural diffuser. Simply rub a drop of your favorite essential oil onto the beads and refresh over time as needed. 
Approx. 7" around
Lead free metal with 18k gold finish
Stretch band
Natural stone beads correspond to different fragrances and benefits (refer to backer card for a color guide)
Black lava beads, purple agate, tiger eye, blue agate, turquoise, yellow agate, red turquoise and amber agate
Enjoy an aromatherapy experience anywhere!